Linked Amateur Radio Repeater Finder
Welcome to Linked Repeater, a tiny web to help amateur Radio Users to find the an Echolink or D-Star repeater or access point closest to the current location.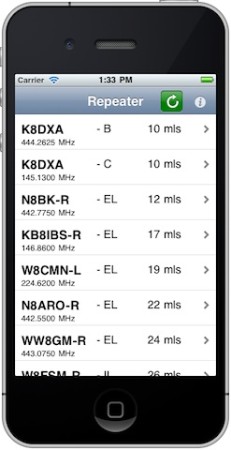 UNDER NEW CONSTRUCTION
On a worldwide basis this WebApp gets you

D-Star Repeaters, **NEW** DMR-Repeater

Echolink Repeaters / Access points close to your location.
This App was developed with the full HTML-5 capability. It uses all features build into modern browsers.
Geolocation provides the QTH (the browser always ask for permission).
The browser integrated mySQL feature stores the list on the device.
With the manifest feature the app runs even off-line using the last received repeater list.
The Local Storage feature stores your setting on the device.
On iPhone you can add an icon to your home screen and then it operates like any other app that was taken from the AppStore.
The WebApp provides a localized interface for German, English and Spanisch.
Link: rpt.ilapps.de
Michigan Screen Shot
Tab on on the repater you will get the details and a map showing the repeater location and your location

Tab on the update button to reload the data. Please allow the browser
to use your location

Tab on the info button if you like to change the settings.
In the info menu you can select between Echolink, D-Star or both repeater types.
| | | |
| --- | --- | --- |
| | | |
| In the detail view the repeater details are shown and the map indicates where the repeater is located relative to your position | | The info view let you select the repeater type and allows you to change between "miles" and "Kilometers". |
Copyright © 2012-2018 DL5AL@ilapps.de. All rights reserved.
iPhone®, Dashcode® and Xcode® are registered trademark of Apple Computer. D-Star® is registered trademark of Icom INC, Echolink® is registered tademark of Syergenics, LCC.